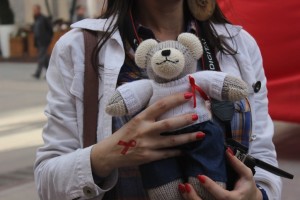 Doctors advised Lusine to refuse from her child when they diagnosed HIV during her pregnancy. "Why do I have to give birth, If I have to die?" Lusine was asking herself, who already had a child (the name has been changed at her request).
Life seemed over for her remembering her three neighbors who died from AIDS in 90`s.
Women living with HIV are being aware of their condition during pregnancy.
Statistics show that those living HIV who do not give birth, do not have any more children. According to the National Center for AIDS Prevention, when mother-to-child HIV transmission has been given preventive treatment in Armenia, 135 women gave birth to 137 children, and only in one case the infection was transmitted to the baby since 2005. No case of HIV transmission from mother to child has been recorded since 2007.
If the infection is not transmitted to the baby as a result of preventive treatment, then what is the reason women living with HIV avoid having children?
In Armenia there is only one maternity home which serves women living with HIV – The Institute of Perinatology, obstetrics and gynecology. According to the director of the Institute Razmik Abrahamyan noted that women living whit HIV and giving birth benefit the same conditions as other women.
"When the birth already occurred, they do not pose a risk for the hospital," Abrahamyan says. "They can stay with other pregnant women and those who gave birth and use all conditions set for them in the dining room and other necessary measures.
However, they do not always stay in free rooms. Women living whit HIV told Lilit Alexanyan , social worker of "Real World, Real People" NGO , that after giving birth they do not accommodate them in  free general hospital room, but move them to other paid rooms at the cost of 5000, 8000 or 10 000 AMD, reasoning that they pose a threat to other women.
"We have had cases when HIV-positive pregnant women were truly insolvent, they wanted to stay in general free rooms, but they were not allowed. They were concerned on what will happen with other pregnant women if they get to know that HIV-infected woman is lying with them. "
She says that she was told about some cases when medical personnel did not maintain the confidentiality of a person's health. According to the law on "Medical service" of the Republic of Armenia, doctors are required to maintain the confidentiality of person's health.
"HIV-infected women never voice their status. How would other women get to know that, "says Alexanyan.
"HIV-positive women give birth to two at the same time. I was shocked when a pregnant asked me about the other pregnant. I asked how she knew, to which she replied that health providers were talking in her room and one of them said: 'I'm afraid to take blood from their child. Then she understood that somebody like her is in the hospital," says Alexanyan.
A woman living with HIV told Alexanyan that when they anesthetized her and thought that she was sleeping, she heard that a medical worker said to another one that she is young, and she should complain to not bring women like this to that hospital.
Another woman told the social worker how a medical worker said "I do not understand how they allow people like this to become pregnant and have a child."
"I found out who that medical worker was. They, of course, denied that such a thing happened," Alexanyan says.
The director of the maternity hospital denies the fact that the obligation to maintain confidentiality has ever been violated. "We do not publicize that a certain person has HIV/AIDS. Of course if you publicize that kind of information, you never know what others would think" insists Abrahamyan disagreeing with the information that doctors are afraid that they can get the infection. "How can doctors be afraid to accept birth, if 100 percent of all women with HIV gave birth and left the hospital?"
Abrahamyan says that women giving birth who live with HIV are placed to paid rooms if their relatives feel a little uncomfortable with the women having the disease and they want them to be placed in a separate room.
Specialists convinced Lusine not to refuse from the child. After giving birth, her doctor ordered to take her to the general room. "Another doctor said "I support another pregnant women and I do not want her to go there because she is a virus," Lusine recalls. Lusine`s child was born without HIV but the young woman does not want to have children anymore because of the attitude received in the maternity hospital.
Hovhannes Ishkhanyan
Translated by Satenik Sargsyan