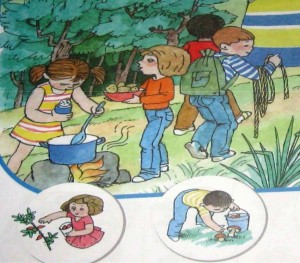 A number of social institutions play an important role in a person's socialization process. These institutions become the developing forces of personal value system: both the idea of gender roles and the development of self-realization are performed by them.
One of these socialization agents are textbooks. In her research ethnographer Ruzanna Tsaturyan discusses this exact issue.
The purpose of this research is the revelation of the feminine and masculine social roles and characteristics portrayed in the Armenian elementary school textbooks, as well as the presentation of the delivery and transmission features of these characteristics.  The research of elementary school textbooks shows the presence of significant disproportion in the representation of gender roles; moreover, there is a domination of male roles over female, which is not only presented through images and text, but also includes professional and social roles and characteristics. There are number of dangerous aspects included in these seemingly innocent facts: the constant domination of male over female roles in the students' academic experience not only makes it impossible to create a tolerant social culture, but also creates or revives masculine social culture, which brings up difficulties in the field of equal possibilities and rights for different sexes.
In these textbooks, the male roles are mostly portrayed in the social field, while the female ones are presented in private, family situations. Men and boys are mostly presented in leading, initiating roles, while girls mostly take on the roles of task performers, followers, and fulfillers. Boys are involved in active and creative affairs, such as climbing trees, swimming, sports games, renovation works, riding a bike, performing physical tasks, meanwhile girls are involved in more passive activities.
Male and female activities are more strictly divided in math textbooks; the evaluation of the narrow range of problems included in these textbooks shows that men/boys are mostly involved in such activities that include construction, building items using wires, non-grocery shopping, and monetary operations; on the other hand, girls/women bake cakes, cook meals, knit socks, make jewelry and flower arrangements, and go grocery shopping.
The complete research can be found here.
Lusine Saghumyan