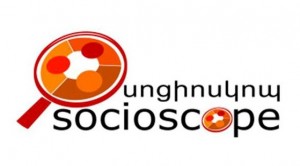 "Socioscope" Societal Research and Consultancy Center was founded in 2008 by a group of young social scientists. The aim of the organization is to promote the establishment of a solid human rights and democracy system in Armenia.
To achieve the goal "Socioscope" organization carries out its activities through three main directions.
First is the implementation of surveys and researches in human rights, democracy, social movements and the related spheres. The next direction is closely linked to the previous one as the organization raises awareness in community level as well. "Socioscope" not only disseminate research results, presenting the current situation, but also consult donor and non-governmental organizations, public agencies and other stakeholders offering possibly effective means for the reality improvement. In the framework of the third major direction, evaluation researches are carried out with aim to strengthen and improve various development programs.
"Socioscope" is member in "The South Caucasus Network of Human Rights Defenders" and the "Human Rights House" in national level.
In general, "Socioscope" has a wide cooperation scope. For example, in cooperation with the famous "Open Society Foundations – Armenia" a photojournalistic research was conducted in Qajaran town, Qajarants village and "Zangezur Copper Molybdenum Combine" CJSC: irresponsible activities of the latter and government inactions once again pointed out the low level of human rights protection and social justice in Armenia. One more collaborative initiative: exhibition titled "Human Rights in Camera" was implemented in the Lovers' park with support of USA Embassy in Armenia- to the organizers' joy and surprise some part of more than hundred photos, reflecting human rights, were sent from the different regions of Armenia.
Currently, the center is cooperating with the "London School of Economics and Political Science". This collaboration gives an opportunity to deepen academic orientation of researches.
Civic movement researches are also ongoing. There are very interesting results from the environmental civic initiative research conducted with the "Calouste Gulbenkian Foundation" support. The studies have shown that public awareness, legal consciousness and public participation are very low. "Socioscope" organization has come to the conclusion that society has lack of faith to itself, the government, the civil society and its various initiatives.Most people are indifferent to social problems. The reason for apathy is not only lack of knowledge, but also lack of willingness to be informed and involved. Obviously, this entire results from the more serious problem- a person's lack to know his/her human rights. "Socioscope" experts are sure that society will get rid of these problems only with help of knowledge and after self-confidence and faith recovery.
However, according to them, current methods of knowledge dissemination are somehow ineffective.
They offer a solution: to make "victims" of human rights violations a part to these rights struggle movements-that is to make them an acting subject from the stable object. If not that "victim", than who else can inject faith and confidence to the civil society activities and belief in the success and truth of his struggle to a victim like him. Mariam Gevorgyan can be an excellent example of the above mentioned. "Who else could more acceptably and persuasive "force" and "convince" women to protect their rights and fight for them,-mentioned "Socioscope" specialist Evelina Gyulkhandanyan and added,-every human-being needs just an honest drive and will to make a better change".
Mane Poghosyan
Maria Abrahamyan