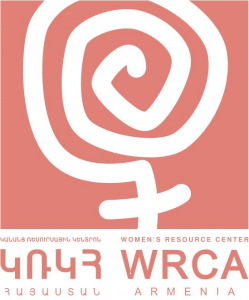 "Women's Resource Center" NGO was founded in 2003 by young women from Armenia and the Diaspora. The organization is the first resource center in post-Soviet Armenia that works with women and for women. The mission of the organization is the creation of a safe environment for Armenian women, provision of necessary resources for their personal and professional growth, promotion and assurance of women's participation in political, economic, cultural and other spheres of social life. The organization intends to create a democratic society in which feministic ideals and ambitions will be valued, to create an environment abstinent from any type of discrimination where women will live in safety and in peace.
Since its foundation till nowadays the organization has been implementing and realizing diverse projects and activities, and has been providing services aiming to induce the level of public awareness, to activate women by stressing the importance of their role in all spheres of life and in the process of peacemaking.
The organization has led and nowadays, too, exercises activities in order to activate women in the scope of which we may name the following projects and activities:
round table discussions on various topics,
"Life starts now" project for women over 40,
career club for women,
"Teenagers on the edge of adult life" project for schoolgirls between the age 12 to 15, which is concentrated on solving problems typical for that age and to help them in career orientation,
training courses on human rights, women's rights, reproductive rights, gender, feminism, violence and trafficking,
prenatal programs for pregnant women,
programs for mothers and their children,training courses on sexuality and sexual health for young girls,
movie screenings,
discussions,
"Book club" etc.
The center has a rich and refreshed library. It also publicises a feminist journal in which researches, fiction artworks and interviews with specialists on gender and women's problems are included. The center publishes informative booklets, brochures, leaflets and other materials.
"Women's Resource Center" NGO is acting both in Yerevan and in the regions of Armenia. Since 2007, the organization has been active in Shushi (Republic of Nagorno Karabakh), too, by trying to spread the idea of "Women and Peace" and other values. The efforts of the center are directed toward altering the role of women in the process of conflict resolution in conflict regions.
"Women's Resource Center" works toward stressing on women's rights, sexual and reproductive rights and sexual violence; it tries to increase the involvement of women in conflict resolution and peace building in South Caucasus. The organization is a member of "Women's Coalition for Peace" and "Young Women's Network in South Caucasus", it is also one of the initiators of the "Coalition to stop violence against women" and is cooperating with similar organizations of Georgia, Abkhazia, Azerbaijan and South Ossetia.
In 2008 Sexual Assault Crisis Center (SACC) was created by the Women's Resource Center, which provides resources to sexually abused individuals all around the Republic of Armenia. SACC provides following services: hotline (telephone counseling), individual counseling (during face-to-face meetings), self-help groups for sexually violated women and girls, referral to appropriate institutions etc.
The organization particularly points up the importance of the protection of women's rights. To secure the abovementioned, the organization designs legislative amendments and pursues their fulfillment by the means of which it has the aim of achieving changes in the system.
The organization urges our citizens to be active, not to be indifferent, and utter the problems as the silence is not the solution. If you are interested in Women's Resource Center's activities, the organization is open for help, support and offers.
Nvard Margaryan