You have the right not to suffer from pain, as uncured pain is legalized torture.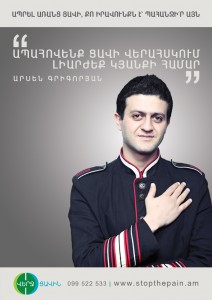 According to World Health Organization statistics of September 2008 nearly 80 percent of the world's population has little or no opportunity for receiving necessary medical treatment and for getting rid of medium and severe pain. The statistics also clearly show that every year in the world tens of millions of people including nearly four million suffering from cancer and 0.8 million people living with HIV suffer from severe pain at the end of their life because of not getting treatment.
From an evolutionary point of view pain is one of the oldest defense mechanisms of mankind which is directed to eliminate or avoid harmful factors causing pain. Pain is an unpleasant psycho-emotional and behavioral feeling, the origin of which is associated with actual or potential tissue damage. The peculiarity and strength of pain depends on the location and type of injury. Pain is a symptom of many chronic and acute diseases. However there are situations when pain becomes a syndrome, thus becoming a disease itself. It affects the whole organism, influencing the functioning of cardiovascular, respiratory and other organ systems, significantly damaging the performance of the organism. Long-lasting, uncured pain affects negatively not only one's health, but also the quality of one's life. It causes mental depression, fall of mood, frustrates person's ability to work disrupting him/her from active social life.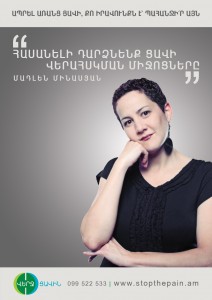 According to the data taken from the Needs Assessment of Armenia, almost 3600 patients need palliative care every day. But because of the lack of morphine which is mitigating pain, the patients suffering from chronic and life-limiting diseases have to bear pain.
According to the same source data, there is no legal institution that gives an opportunity for getting pain killers and palliative care. Thousands of our compatriots suffer from cancer and other life-limiting diseases, which are accompanied by severe and unbearable pain. Pain makes the patient bed-ridden for months and even for years. Very often the disease gradually develops leaving a huge prairie after itself named unbearable pain, which becomes a real hell for the patients and their family members.
All over the world, pain treatment triple degree guidelines developed and adopted by World Health Organization are used, intended for the treatment of diseases. This information can be found everywhere both in periodicals and on the internet, it is not confidential. Again a question arises why patients are not treated properly and continue suffering from severe pain.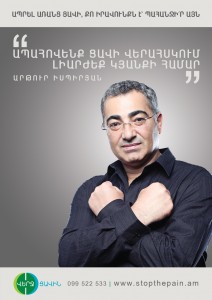 Probably the problem is neither the doctor's inhumanity, nor the lack of their knowledge and experience. The entire problem is the stereotype and fear towards drugs that prescription of these means can lead to the increase of drug users. There is an Opiophobia formed in the society. Certainly this scenario cannot be excluded, but it is nothing when compared to the huge amount of drug trafficking. This is exactly why power structures scrupulously check medical institutions and healthcare workers. Additionally, one must fill out a number of registration forms and references for a single injection in postoperative period. Moreover, the injection can be made only in the presence of a physician. After that, many notes are taken in different documents, committees convene to destroy vials while drug users continue to acquire narcotic drugs the way they usually do. But the patient who suffers from severe pain remains without a painkiller.
The access to opioids for mitigating pain is an essential factor for the implementation of provision of quality palliative care program and can change the lives of many individuals living in Armenia and suffering from deadly diseases and release them from pain.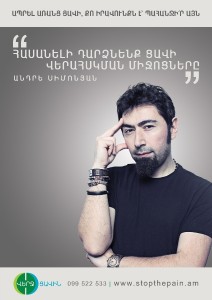 There are number of factors that serve as obstacles for providing pain killer drugs to patients. Those factors are:
restrictions of legal and regulatory procedural norms;
specialists' lack of practical knowledge in the sphere of healthcare;
erroneous cultural attitude towards pain, palliative care and the right of the patient for a pain-free life in dignity;
unjustified and exaggerated use of the power of law in terms of the possibility of drug use and drug abuse on the account of effective pain treatment;
lack of education and awareness in society and total absence of public discussions about pain and patient's rights.
Different organizations supporting this campaign, individuals, caregivers, patients and experts in healthcare system have assembled the Armenian society to show the importance of access to pain killing drugs for provision of palliative care in Armenia.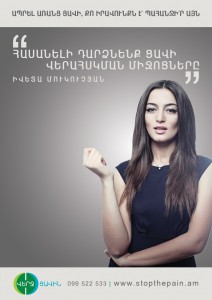 Different activities were implemented from April to July 2012, the goal of which was to engage the public in a dialogue on the issue and inform the population about their rights. The awareness raising initiative "Life without Pain" is supported by "Women's Resource Center", "Public Information and Need of Knowledge" (PINK Armenia), "Real World, Real People", "Open Society Foundations – Armenia", "Armenian Center for Health Initiatives" organizations.
Pain and death are unavoidable phenomena, but having an opportunity to get palliative care if needed and have access to pain killing drugs is a person's exceptional right. We are obliged to respect and ensure the right of the patient in need of care, to give him/her a chance to live his/her life with dignity.
Nvard Margaryan