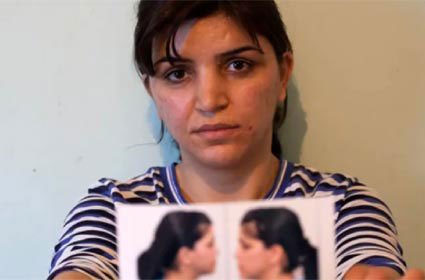 The cases of domestic violence have become widely discussed recently in Armenia. Is the domestic violence a phenomenon, which emerged in our society in recent years or it has always been in our society?
Actually, domestic violence, and especially violence against women in the family are phenomena that have always been in all societies, as well as in the Armenian one. In Armenian society, people have been keeping silence on this because of the fact that the family is quite a closed system here, also due to becoming victims of morality and orders, norms and roles that are accepted by the society and of the notion of the Armenian traditional family.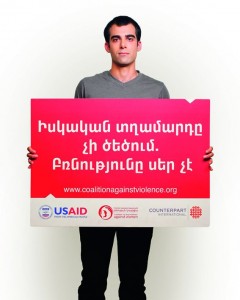 In the last few years, however, the silence seemed to yield, the iron curtain of domestic violence cases was broken, people started to talk about violence and raised the issues.
The society seemed to come to mind after Zaruhi Petrosyan's tragic death, when there was a new video, where 20-year-old Mariam Gevorgyan was telling how she had been severely beaten for months.
Two years ago Haykanush Mikayelyan, who is living in Russia, visiting the village of Taperakan, in Ararat region, asked the Gevorkyans' to marry their daughter, 20-year-old Mariam, her senior son, 26-year-old David Ziroyan. Haykanush told that her son was divorced: her daughter-in-law had problems with eyesight and because of some inflammation her right eye was blind and she left him as not to make David unhappy.
Everything happened very quickly. On the 19 November, 2009 these young couple got engaged. Some days later, David, then Mariam and the mother-in-law left for Saint Petersburg on 22 December.
After the first half of the month of the marriage, persecutions, beatings, cruel treatment, torture and psychological harassment began towards Mariam in the family.
"They hit my head so much, when I was moving it, everything was moving, it was like a balloon and water in it. My husband used to beat me for different reasons, such as, sweeping the house slowly, assorting the greens in not a lovely manner, closing the door with a snap or "talking over head", turning my whole body and face into an entire bruise." "Every time they found a reason to beat, telling that "you've made witchcraft". Then my mother-in-law began to beat… A few times with a lighter, and afterwards with rolled pieces of paper, she was burning my breast. She was forcing me to take my tongue out and burning it with a lighter. I was taking it back because of the pain, and she was heating me over the head with a rolling pin, pulling my hair so tightly that some parts of my skin were abraded away with the hair. Thus, I had to take my tongue out again, and after burning it she was putting a piece of soap in my mouth saying she is doing so that I could feel strongly what the bitterness is. She was closing my mouth tightly so that I couldn't do anything but swallow the soap…'',- Mariam recalls.
Mariam's parents were calling her periodically, but Mariam was not aware about the calls, and on the contrary they insisted that nobody cares about her, and that even her parents didn't want to know about their daughter. All these were used to suppress her psychologically as well. After ten months of marriage Mariam Gevorgyan was able to come back to Armenia. She contacted the police after returning to Yerevan. The husband was charged with "inflicting willful medium gravity damage to health" and "battery" according to which, he could be sentenced up to 3 years imprisonment.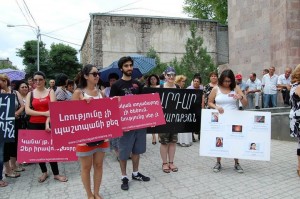 According to the court decision Ziroyan was released by amnesty declared by RA President on the occasion of the 20th anniversary of Armenian's independence. On 14 December Haykanush Mikaelyan was arrested in Saint Petersburg and moved to Armenia. Haykanush Mikaelyan was charged with the article 113 (medium gravity damage) and article 119 (torture) of Criminal Code of RA.
Court sessions are continuing. The court has made a decision to hold court sessions closed to the public according to the mediation presented by David Ziroyan's first wife, Meline Batoyan.
"Coalition to Stop Violence against Women" which is consistent with regards to domestic violence cases, organizes a demonstration during every court session in front of the court, claiming a fair litigation, as well as an open examination of the case.
If the crime is not punished today, each of us can be a victim of such cases tomorrow.
Let's prevent it today.
Nvard Margaryan