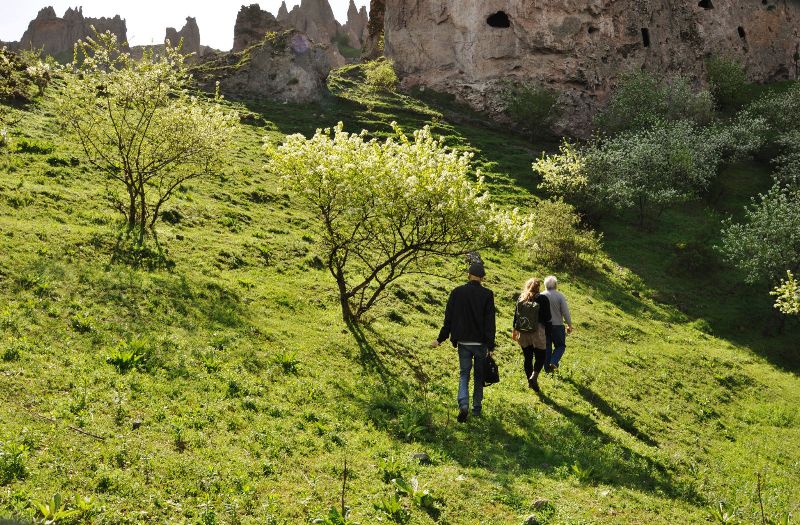 We were participating at a study course in Sweden this year in the scope of which a journey to other countries was anticipated to explore their political situation and atmosphere. During six weeks our little group of students went from Turkey to Georgia, Abkhazia and Azerbaijan, meeting with different people and organizations and exploring the milieu. The last two weeks were dedicated to Armenia.
What first struck us, when we entered Armenia from the border of Georgia, was the spectacular view of mountainous scenery that made us speechless. We arrived in Yerevan by car from Tbilisi, travelling over snow-covered mountains like we had never seen before.
It was the end of April when we arrived in Yerevan. We found Yerevan steaming with emotions as Genocide Day approached. For someone born and raised in Sweden – a well-developed and prosperous democracy that has enjoyed peace for the last 200 years – manifestations like this are utterly foreign. We cannot truly understand the grief and frustration of the Armenian people, but only observe and try to learn from it.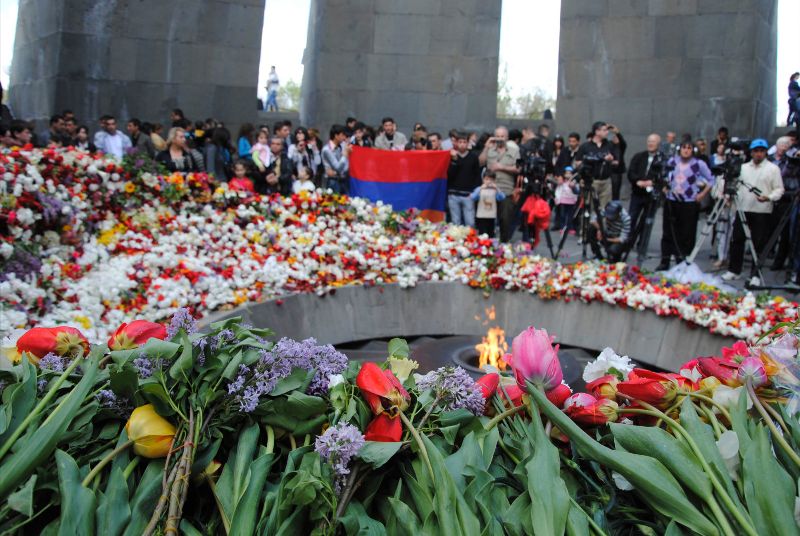 What is noticeable is that modern Armenians carry with them events of the past as if they happened yesterday. Never before have I encountered people so proud of their history and so determined to preserve their legacy. I find this very admirable and also kind of sad. It feels like only pain and loss as a result of conflicts, violence and injustice could induce this kind of fierce patriotic pride. Like too much was taken through the centuries for the Armenian people to ever forget – let alone forgive. I worry that this lovely little land, in its eagerness to preserve its past glory, will lose interest in the path ahead.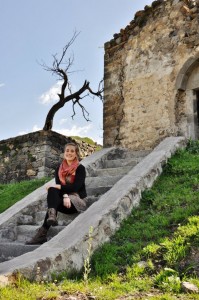 And as we later travelled through this beautiful country and into Nagorno-Karabakh and its astonishing landscapes and sights, and listened to the locals talk about the conflicts in the past and present, we could understand more what all the fuss was about. Armenia – the feel of it, as you get to know its people, culture and land – is something out of the ordinary. What I didn't know, was that the landscape would turn out to be even more (if it's possible!) beautiful on our way to Goris, and Nagorno-Karabakh. But sometimes you need to pay a price for all the beauty, and in this case it was the car ride. The car did not have any seatbelts, and the road through the beautiful landscape almost made me cry, both because of the view and the fear of a sudden death.
It is not only the nature of this country that attracted us. The hospitability around Armenia and Nagorno Karabakh was a very pleasant surprise for us as well; people were willing to help and to host us, the human relationship and communication was very simple and positive for the most of time. The food was tasty.
Language barrier was felt sometimes as we didn't speak Armenian. Yet, some of our friends and acquaintances have had the chance to feel that inconvenience, too, as we would sometimes speak Swedish in their presence.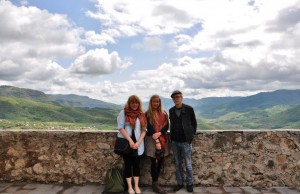 For two weeks we have practiced at PINK Armenia NGO, and we got the opportunity to get to know the inspiring people working there, who gave us new experiences and good memories to cherish later. The work they do, the attachment they have for it is inspiring and promising. We got insight in their amazing work in terms of which they protect and advocate the universal use of human rights for all, particularly for vulnerable groups, they provide basic and general information on democracy, human rights, civil society, safer sex, they activate and empower the youth. The existing stereotypes and the lack of education in society concerning LGBT, gender equality, marginalised groups are the greatest obstacles in this work, and to overcome them the Armenians need to radically change their very traditional view on gender, sex and diversity.
Civil society works slowly without support from the public, and I sincerely hope that the people of Armenia won't let the fear of losing their national identity prevent them from understanding the importance of human rights, and from incorporating the fundamental values of freedom, equality and tolerance into every sphere of society.
We were happy to present our culture and history during the cultural evening of Sweden at PINK Armenia. Many of the guests stated that they liked the food for the preparation of which we had spent an entire evening. The guests were also interested in studying in Sweden and the youth were enquiring about possibilities and the educational system functioning in Sweden.
By the way, when we were in Yerevan, PINK was implementing the "Diversity" project. We were attracting attention in the streets by being different with our look and clothing. I think it was our little input for the project and I hope that we served a good example for manifesting diversity.
Elin Holmer
Hillevi Brandt