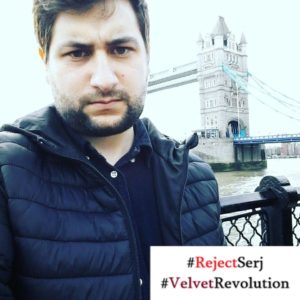 Vardan Hambardzumyan, an Oxford University graduate, was the only one detained by police on April 17 during a protest on Tigran Mets-Khanjyan intersection. One of the attendants asked why they were only taking him and suggested they take him as well, the policemen replied, "You are a normal guy, so we won't detain you, and we're not going to say what he is in front of all these women?" Vardan told us that he was beaten in the car, spitted on and told that he was no longer a man. "By analyzing the facts, we realized that I had been targeted for my sexual orientation."
Vardan was one of the co-authors of the open letter from the students receiving grants from the Luys Foundation asking Serzh Sargsyan to resign and stop the pressure on students.
A 29-year-old doctor had begun to take part in the protests when they closed the French Square for the first time. "Then I joined the student strikes." He was on the crossroads of Koryun-Heratsi on April 16 when a group of people came out of the car and attacked demonstrators.
"A Brabus arrived and drove towards the students. They came out and told the demonstrators that they must pass to which the students replied that the street is closed, so they attacked at once. The car tried to run over a demonstor then they came out and started hitting her.They hit me on the head. At that moment I was tense and I did not notice my eyeglasses fell. I found it completely flattened. "
Vardan says he believed in the change and took part in the movement so the Republicans would leave, because: "That government was a fascist government," and mentions this about one of the MPs "Hayk Babukhanyan has always made fascist, hate speech spreading statements."
Although many have begun to recognize him from the Television program "Semi-open windows", where he protects a homosexual man, he says that there was no negativity from fellow demonstrators surrounding his sexual orientation during demonstrations. "I've read the Facebook blogs that the thugs (people with traditional outlooks) and gay guys were sitting near the stove. This revolution united. "
He says he was participating in demonstrations as a homosexual and as a citizen of Armenia and stressing that the LGBT community was at the forefront of the movement, as: "The Republican Party has always targeted the LGBT community and used it for its own benefit when it wanted to draw the attention of the public away from a topic they would speculate on the LGBT topic."
The idea of ​​writing an open letter to the Luys Foundation came to him when he saw that the intellectuals congratulated Serzh Sargsyan on being elected to the post, which was absurd for Vardan because he thinks the intellectual must always go against the current.
At first, 61 people joined the open letter, but after Serzh Sargsyan's response, more joined him and eventually became 157, out of 517. "It was a great blow to the authorities. Vigen Sargsyan gave a press release saying that those students are getting money from Serzh Sargsyan and still want to lecture him. Luys does not immediately get funding from Serzh Sargsyan (it is funded by various companies, see here). "Even if it came from Serzh, that does not mean that we are Serge's property forever. "
Vardan is not entirely convinced that the new authorities will take into consideration human rights of LGBT people, but when they were an opposition, he heard LGBT friendly statements. "However, the statements made in the past are not basis for assuming that after coming to power they will be gay friendly, but I'm hopeful. If they do not, we will reject them as well."
Hovhannes Ishkhanyan