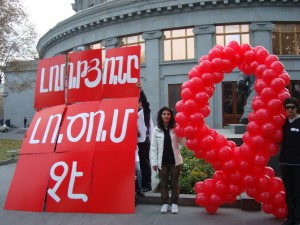 World AIDS Day – this is the day when the world wears red ribbon and takes actions to stop AIDS.
World AIDS Day in Armenia – this is the day when not all Armenians but at least several NGOs are raising the worldwide issue in the country. Since 2008 those NGOs work together, organize joint events and build stronger capacity for HIV awareness, prevention, treatment, care and human rights protection.
In 2010 UNAIDS, UNDP and Mission East Armenian Branch supported local organizations to conduct joint event dedicated to the World AIDS Day. Event was prepared due to the World AIDS Campaign's slogan "Universal Access and Human Rights". PINK Armenia together with Real World Real People, Women Resource Center, Positive People Armenian Network, National Center for AIDS Prevention, Education in the Name of Health, Armenian Red Cross Society and Public Health Information Statistics created booklets with stories, telling the cases of human rights violations addressed to the people living with HIV, men having sex with men, people involved in prostitution, migrants, injecting drug users, women, the problems that they face in families, at workplace and generally in the society. The booklet was available during the UNAIDS press conference on December 1st for journalists, parliamentarians, civil society representatives and other guests.
That evening a march was organized in the central streets of Yerevan, distributing info materials and spreading the message "Silence is not a solution". During the march we had flashmobs. In front of the march participants were holding big red ribbon made of balloons.
To compare, if last year young people were passing by and asking: "Why are you having this event? We don't have AIDS in Armenia," this time people were more aware.
For HIV prevention there are 3 main steps: awareness, advocacy and safe behavior. In case we know about HIV, also about the ways of transmission and how to prevent it, but do we behave safer? That is the reason that we have a lot to do in order to prevent the practicing of risky behavior. And which is the most important – never keep silence and talk about it, ask if you don't know, inform others when you are aware, protect your rights and help to advocate for others' rights as well.
Mamikon Hovsepyan