Have you ever noticed pianos tuned on a single note, transformed truck in streets or people who read Shushanik Kurghinyan near the metro stations? That is the non-governmental organization "Utopiana.am" drawing attention to the issues of its concern.
7 pianos installed near the Swan Lake, though it was planned to place them in Freedom Square, one of the pianos tuned on a single note and the rest- not tuned, even though it was planned for all of them to be tuned on a single note to reflect the monotony of voices in the political life of Armenia. But according to the president of "Utopiana.am" Nora Galfayan "The Piano Tuner" – project by Anna Barseghian & Harutyun Alpetyan was perceived wrong.
"We applied to Yerevan Municipality in order to place them in Freedom Square. They rejected and told us to place them near the Swan Lake. And then Harut didn't manage to tune all the pianos on a single note. Piano turned into something totally different, it was interpreted as an aesthetic project as if the pianos were installed for people to come, play and enjoy", tells Galfayan.
"Utopiana.am", a cultural creative non-governmental organization founded by Anna Barseghian and Steve Christensen in 2001 initially aimed to take the artists from Soviet generation out of the isolation. As a result of generation change that problem had been solved by its own, and as Nora Galfayan says, the generation of independent Armenia is being able to foresee and get engaged in international framework mainly due to language knowledge.
Starting from 2007 "Utopiana" identifies thematic problems to be accomplished.  Now the focus of the organization is on archive, education and change of generations, and the matter of forming own agenda for institutions in independent public sphere.  "Our agenda is being formed with funds. It is a serious problem we shall accept as a stance and work style, and try to find solutions", says Nora Galfayan, explaining the importance of forming independent agenda.
The project "Medialab" linked with generation change and education, which is providing an alternative education for youth, procured its financial means through crowd-funding. This charge free educational project lasts six months and teaches subjects on photography, editing, camera work and creative writing.
Some of the "Utopiana.am" ideas were originated during the Mashtots Park movement, including the project "ACTV", which relates to archive. The online video project which operates since 2012 is aimed at reinventing the concept of the public space.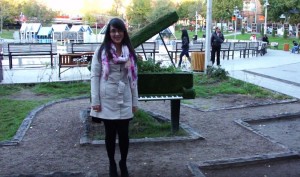 "It's ok that there are many social problems in our country. I can bring my guests from abroad and show this piano garden. The important thing is to have something to show" is said in the sneering video "The Capital of my Spade" by "ACTV", which is directed at the municipality's aesthetic initiatives by showing the piano covered by grass and flowers near Swan Lake.
Highlighting the idea of reinventing public spaces, especially taking into account the privatization of many territories after the Armenia's independence, "Utopiana.am" undertakes various art means to draw attention to public areas.
In frames of the project related to public areas "Spaces" sociologist Arevik Martirosyan organized a poetry reading of feminist writer Shushanik Kurghinian near the fountains of Republic Square metro station in 2013. Galfayan tells that the guards would not let carry out that activity, saying that it is the territory of the subway, but she believes that it is possible to achieve success with such little actions.
"With those steps of rebellion you try to establish your rights in those areas, at least temporarily. If there are precedents, it is possible that these areas become public for a longer period of time", thinks the president of "Utopiana.am"
Despite the contradictions with state officials "Utopiana.am" does not avoid cooperation with authorities. With the initiation of the Head of Modern Art Department of the RA Ministry of Culture Sona Harutyunyan "Utopiana" organized a meeting with contemporary art figures and representatives of the Department, but the discussion did not give any positive results.
Hovhannes Ishkhanyan
Translated by Kolya Hovhannisyan