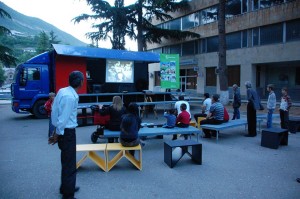 The truck transforms into a cinema, concert stage, kitchen or a classroom equipped with computers. You can pass knowledge to children, exchange thoughts with colleagues or deliver potatoes to regions if you want.
"Why not give a chance for civil gatherings to be mobile?" This thought was originated during the Mashtots Park movement in "Utopiana.am" and it took three years for it to be formed and it is now travelling on wheels from town to town with the name "Transformer".
The blue truck became the public space authored by architect Stefan Press and artist Anna Barseghyan, which goes around regions in Armenia and gives people an opportunity to share their ideas and calls the curious ones to take part in its projects.
The project coordinator or "Transformer" Nanor Petrosyan tells: "Artist Vahram Aghasyan introduced a project to go to different places, meet local artists and have something to eat in the kitchen [of the truck]", mentioning that they have conducted 8 projects in different towns and villages, as well as went to Georgia to take part in "One Caucasus" international festival.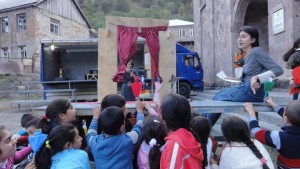 It is not only the artists who are able to present their ideas to "Transformer". Concerts, photography, journalism and other trainings, conferences and lectures on various topics, movie screenings, and civil society meetings took place by means of the truck.
"Tehmine Yenoqyan was conducting a journalistic workshop in Chambarak" – tells Petrosyan, "One of the participants prepared a video about the problems of roads, which we shared in our website. However, allegedly under the pressure of the village municipality participant asked to take it off."
Petrosyan says that there was also an attempt to censor the programs of "Transformer" in Vanadzor, as a result of which the placement of the truck in that city failed.
Nevertheless, not all the settlements have a negative attitude towards the transforming vehicle. For instance, it was permitted in Gyumri to park the truck in the central square.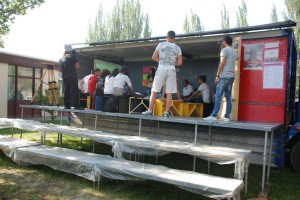 "Our wish is to have 100-150 people attended for each event. There were cases when 50 people were present, or 3 people, and cases when we canceled the program.  But maybe that is the way it should have been in Armenia as people have big social problems and because of it such things do not interest them at all" says Petrosyan, adding, that this year they aim to do a more extensive work, in which they will involve activists, public figures, people who see the future of "Transformer" and picture themselves in the vehicle.
In addition, it is planned to create an online blog in frames of "Transformer" in order to make the communication between trainers and participants of the programs ongoing: "So it is not the way we just came, saw and left" says Petrosyan.
"Transformer" is open for any idea. It is just needed to send it to "Utopiana.am", the board of which will decide whether it coincides with the ideology of "Transformer" and if it is appropriate to be implemented or not.
It's good if it gets approved, and if not, apply with another project.
Hovhannes Ishkhanyan
Translated by Kolya Hovhannisyan