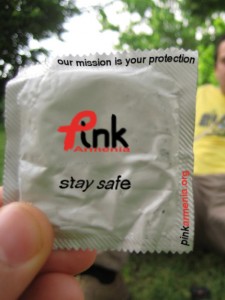 Public Information and Need of Knowledge NGO was created in 2007 by a group of young and enthusiastic civil society activists who aimed to establish an organization which would be dedicated to the prevention of sexually transmitted infections, HIV and human rights protection. It is more popular in the mainstream public as PINK with its English abbreviation, and in international arena to differ from similar organizations of other countries, they call it PINK Armenia.
Starting from the very first day of its functioning, the organization conducts activities to raise the public awareness regarding sexual health, sexually transmitted infections and HIV/AIDS, to promote safe sexual relations and behavior. In the sphere of human rights protection the organization promotes the ideas of equality and acceptance of vulnerable groups and is eager to reach the elimination of any kind of discrimination by establishing the environment of cultural sensitivity and respect toward diversity in our society.
The activities of the NGO are taking place both in Yerevan and in the regions of Armenia. At the "Information, Education, Communication" center (Yerevan), which was opened with the support of the Norwegian Ministry of Foreign Affairs, the visitors have the possibility to participate in trainings, discussions, movie screenings, receive free of charge and anonymous counseling regarding sexual health and human rights, use the library and other services provided by the organization.
Despite its young age, the organization has managed to excel with its transparent, open and dedicated work. It has established strong cooperation with local and international organizations functioning in the sphere of sexual health and human rights protection.
PINK Armenia is a member of "South Caucasus Network of Human Rights Defenders" and "AIDS Action Europe". In 2010 seven NGOs including PINK Armenia have established the Coalition "To Stop Violence against Women" formed on the occasion of the tragic death of 20 year old Zaruhi Petrosyan, a victim of domestic violence. Within the frames of the coalition, PINK Armenia strives to protect women's rights and to put an end to domestic violence in Armenia.
Due to the active cooperation with several organizations which are concerned with sexual health, HIV/AIDS and human rights protection issues in Armenia, "Public Information and Need of Knowledge" NGO has conducted various public and social events in Yerevan and in the regions of Armenia. These strong ties between the partners have brought them to the idea of creation of "Advocacy Group on AIDS". The initiators of it are Public Information and Need of Knowledge, Real World Real People, Women Resource Center and Positive People Armenian Network NGOs. The group aims to take joint actions for the rights advocacy and rights protection of vulnerable groups and bring public attention to the importance and urgency of sexual health issues.
PINK Armenia is also one of the undertakers of the Human Rights House. This body will unite 12 organizations working in various fields related to human rights protection aiming to create "one access door" services.
In November 2010 this organization has launched ''Diversity'' project by the financial support of Ministry of Foreign Affairs of Norway. This project is one of the expressions of the dedication of the staff of PINK Armenia to the values and principles underlying its mission and vision.
Another project, which PINK Armenia has launched on the April 1, 2011, is the continuation of "We and Our Rights" project supported by Counterpart International Armenia. The goal of this multistage project is to decrease intolerant and discriminative attitude toward LGBT  community in various spheres of societal life and to advocate for their rights protection.
Public Information and Need of Knowledge NGO encourages everyone to be active citizens of our country, contribute to the constructive changes and to the prosperity of the civil society. If you are interested in activities of PINK Armenia, organization is open for help and any kind of contribution.
Marine Margaryan