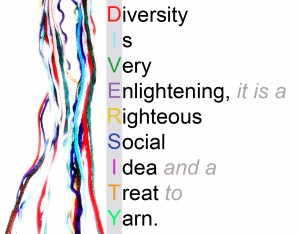 A huge Soviet era is gone now. It was an era when homogeneousness was propagated, when there was designed similar culture for all brotherly republics. The same way politics was formed, which naturally was affecting the social sphere. After the collapse of USSR – boom! The state has taken the path leading towards democracy, freedom, liberty, equality (some of those concepts and ideas were already presented to (former) USSR by Gorbachev). Individualism, assurance of human rights, protection of one's privacy and freedom of expression emerged as new values for our country. Of course "Rome wasn't built in a day", so is not so far built democracy and rule of law in Armenia and there is still a lot to be done. Positive changes, unfortunately, do not come overnight usually; it's rather a long way to build and to pass and the very civil society has to input efforts and attempts in its turn to make the country more prosperous.
"Public Information and Need of Knowledge" NGO launched "Diversity" project, willing to reach a high level of acceptance of diversity, mutual respect and cultural sensitivity by promoting the ideas of tolerance, respect, and understanding.
Nowadays, sadly, the rise of neo-Nazi movements and ultranationalists is registered. It's a pity, but often activists of these movements take ultra-nationalist or neo-Nazi ideas for and represent them as nationalism, even worse – as patriotism. Gender based human rights violations, xenophobia, homophobia, neo-Nazism, ignorance and illiteracy will do nothing but flourish, if no serious actions are taken, if these issues remain unaddressed or silenced, or ignored, and the marginalized and discriminated groups will be defamed as 'good' as nowadays.
Addressing and fighting the issues of stereotypes, intolerance, xenophobia, homophobia, discrimination based on gender, including LGBT (lesbian, gay, bisexual, transgender)- related issues are highly important for this project, as well as generally are the issues of any kind of discrimination based on age, sex, gender, sexual orientation.
The activities and events organized during "Diversity" project shall lead to the promotion and to better understanding of human rights both as a theory and as a practical tool to use in daily life, realities and situations, as well as in case of abuses, abuse reporting, etc.
This project aims to bring positive changes, nurture and spread the ideas of equality, civil society, as well as to fight the negative taboos, stereotypes and to eliminate discriminative attitudes of the society.
Public Information and Need of Knowledge NGO