What do you do to break the silence?
The day of silence, which was first held in 1996 in Virginia, USA became the most widespread event ever organized by students.  It was meant to address the issues of discrimination and intolerance all throughout educational institutions, in an effort to establish safe educational institutions where people would be respected and accepted regardless of their sexual orientation and gender identity.
Many people have heard about the Day of Silence, but not everyone understands why it exists and what its purpose is.
The main purpose of this day is to get the public's attention, by raising awareness on the issues of violence, intolerance, harassment, and discrimination and by developing relevant and effective solutions in an effort to eliminate them. The International Day of Silence is directed to the world wide public and aims to capture people's attention on the spread of hate crimes against LGBT communities, homophobia, bullying, physical and psychological abuse, discrimination and intolerance. Every year, thousands of people take part in the events dedicated to the Day of Silence in an effort to increase participation and activism for the reduction of homophobia in educational institutions. This is an opportunity to show the public that this problem concerns not only the LGBT people, but also us, our family members, relatives, friends and all layers of the society.
Day by day, thousands of people keep silent. They keep silent because they are afraid. They keep silent because they are what they are. Our brothers, our sisters, our parents, our friends and coworkers are among them, homosexuals and heterosexuals keep silent, you keep silent and I also keep silent. This is the silence of the entire lesbian, gay, bisexual and transgender people about discrimination, violence, harassment, which they permanently face. On this day, their silence will be heard all over the world. Millions of people will keep silent in different parts of the world, regardless of their nationality, religion, sex, age, profession, sexual orientation and other personal qualities. They will keep silent because they believe that harassment and discrimination must end. In countries where LGBT rights are better respected, they will keep silent for the educational institutions on its mission to become safer for everyone, regardless of nationality, sexual orientation or other personal characteristics. Finally, in countries where LGBT rights are not protected, the Day of Silence is dedicated to the elimination of homophobia and prevention of hate crimes. All around the world, people are taking part in the Day of Silence to elucidate this issue and let LGBT people feel that they are not alone.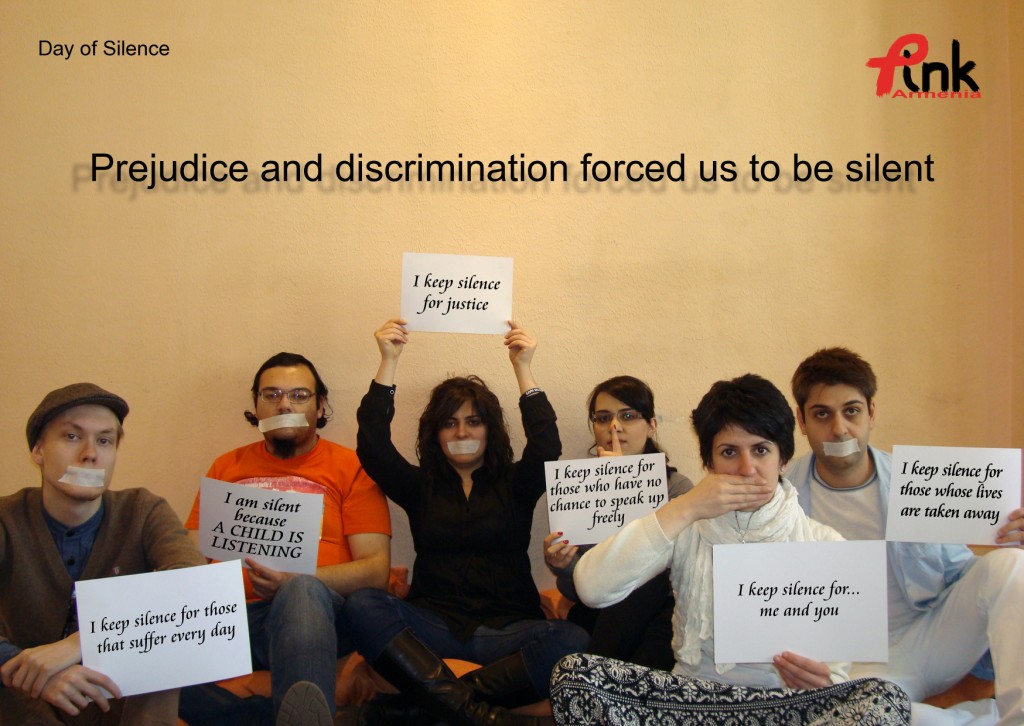 Why is it bad to keep silent?
Witnessing different types of discrimination in societies and keeping silent about them can cause violence to occur. Violence is what causes you pain: pain which is inhumane. It can be both psychological and physical: beating and death.
Imagine somebody's brother being beaten just because he's "different" (to no choice of his own) or somebody's sister, friend, parents.  A child commits suicide because s/he is constantly being mocked by her/his classmates. We may list endlessly. After all, you may be the victim, someone may beat you because you're not "like" him/her. Nevertheless, diversity is so much in our lives. Life is wonderful by its diversity. Every expression of violence and hatred against those who are "different" (ethnicity, race, religion, values, sexual orientations, etc.) speaks about the low level of tolerance or its absence. Remaining silent about these issues only fuels the fire and leads to a higher level of intolerance and violence to occur.
Homophobia doesn't only hurt LGBT people. Homophobia is a form of discrimination; discrimination based on the sexual orientation and gender identity of the person. Mature people realize that in a certain period of time or space, anyone can be subjected to discrimination, which is why this event isn't just for to the LGBTs, but also heterosexuals who understand that homophobia, offenses and violence undermine the basis of healthy society, take part in it. Not speaking about the problems, ignoring it, always have negative impact on those people who constantly deal with these issues.
Hatred against LGBT people is dangerous for everyone with no exception
Flyers containing these types of written ads were distributed during the previous Day of Silence in Russia. "Please, try to understand, why I don't say a single word today. I am participating in the Day of Silence, an international youth protest movement against the silence, to which LGBT people and their friends meet. My intentional silence is a response to the silence that arises from violence, harassment, prejudice and discrimination. I believe that by breaking the silence, we will take the first step in fighting against the injustice. Think about the voices which you do not hear now and ask yourself this question: "What do I do to break the silence?" Think about it…"
Kamo Davtyan