"Public Information and Need of Knowledge" NGO, being concerned with negative consequences of discriminatory and intolerant attitude toward LGBT (Lesbian, gay, bisexual, transgender) people, has initiated studies and surveys. "We and our rights" is a sociological survey and legal analysis composed of two stages. It was possible to carry this research with financial support of Counterpart International's Armenia Representation in cooperation with United States Agency for International Development (USAID).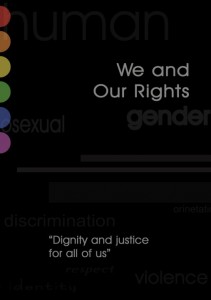 Phase one
The first phase of studies gave a chance to accumulate reliable pieces of information on cases of violation of LGBT persons' rights. They have also tried to find out how well the legal field actually does guarantee the protection of LGBT persons – citizens of our country. By analysing the information gathered during the research, a general picture of LGBT rights was amassed, including the perception of LGBT persons of their rights, their opinions on discriminatory demeanour and expression of homophobic behaviour in various regions of Armenia, as well as compared to other states. Afterwards, attitude towards LGBT persons and cases of violation of their rights in family, workplace, educational institutions, mass media and other places are represented. As existent problems, those pertaining to health have been analyzed particularly. Subsequently, ways to decrease discrimination recommended by respondents are submitted.
Phase two
''Public opinion toward LGBT people in Yerevan, Gyumri and Vanadzor cities: 2011'' is a quantitative social survey at the heart of which is the accumulation of data and analyse of it on the following:
vulnerable groups in Armenia,
information on LGBT persons,
attitude/stance toward LGBT persons.
Here are certain interesting details which became known thanks to the survey:
49.5% of inhabitants of Yerevan think that there are more men among the LGBT group, and 49.4% of inhabitants from Gyumri think that women prevail among LGBTs.
Some of the respondents think that homosexuality is:a disease – 18.6%,the negative influence of western countries- 12.7%,a result of upbringing – 10.8%:
72.1%

of respondents mentioned that their attitude toward LGBT persons is negative.

66.9%

of respondents think that the society shall condemn LGBT persons.

97.4%

think that homosexuality is a deviation.

55.3%

of respondents stated that they would cease any contact with his/her friend/relative/acquaintance, if they find out that that person is homosexual.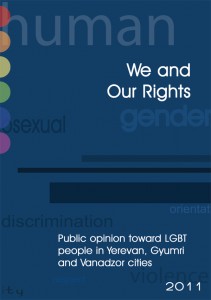 The results of the survey were predictable to some extent and unexpected sometimes. The outcome has shown that the majority of the respondents does not regard LGBT persons as a vulnerable group (it is 6.3 percent only which has regarded LGBTs as a vulnerable group).
The undertakers of the survey were concerned, since its beginning, that some could get to the probable conclusion: "Yes, the majority is intolerant, and that's the way it should be". Being more careful with this, recommendations were given a special importance which is directed to:
the government of RA,
the Human Rights Defender's Institution of RA,
local and international non-governmental organisations.
It can be assumed that the negative attitude with respect to LGBT persons is conditioned by the lack of information and knowledge. The research has clearly validated that there are problems as regards to perception and attitude that LGBT people receive. 71,5% of respondents considers that state should fight against LGBT people.
Thus, in Armenia LGBT persons nowadays are perceived in a way that the left-handers, for instance, were perceived decades ago – as "deviated" which shall be "helped out" in order them to "become normal" and those who disobey, shall be removed or alienated from the society.
The interviewers themselves have gone through interesting adventures in the process of realising this survey. The process was hard, sometimes even dangerous.
They would often be greeted by concerned house owners who would think that they are lying and that they just wanted to rob the house. One of the female interviewers was almost attacked by a father who thought that they were trying to "pervert" his son by asking questions regarding "sexual minorities"… the son which involuntarily "enjoyed" the protection of his father was above 18 years old.
Lusine too, being the coordinator of the working process, was having troubled time whilst this project was ongoing; hearing all these stories the interviewers would go through and  double-checking the work and reading all these swearing words they have used to describe LGBT persons wasn't something that easy-to-digest. This survey is the first of its kind for Armenia, and it is critically important. The survey gives a chance not only to grasp the Armenian realities, it is also a base for further steps, it will serve as an initial comprehensive source of information for the successive surveys as well.
Sevak Kirakosyan