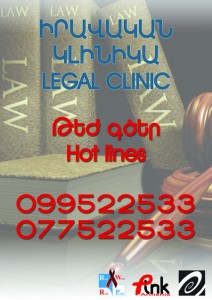 The HIV (Human Immunodeficiency Virus) infection epidemic has today become a global crisis, and has become a barrier to the development of the Millennium Challenges. The protection of human rights of most at risk population toward HIV infection (injecting drug users, sex-workers and men having sex with men), as well as those who are living with HIV, has key and strategic importance. People belonging to the abovementioned groups are generally left out of public health programs, and they do not receive support and appropriate services.
What's more, in Armenia, these marginalized groups are subjected to discrimination and trampling-upon of their human rights in nearly every area of life. There are certain organizations and institutions in our society which try to work in the field of protecting the rights of members of these marginalized groups. Unfortunately, there is a lack of coordination in the field, as well as the services are not addressed properly and specified quite often which would allow to solve the issues bothering these people. The stigma, the discrimination and the public's intolerant attitude towards these people not only create opportunities for the trampling of human rights, but also build up obstacles to these people's inclusion in public health, HIV protection, support and care programs and services.
The trampling of the rights of these groups which are highly vulnerable to HIV as well as those who live with HIV has two main sources. First, there are gaps and deficiencies in state laws and second, common prejudices and so-called traditional attitude towards people who are volnurable toward HIV. These main issues, remain not raised, undiscussed behind closed doors and are not given public attention.
Today, in Armenia, there live more than 2000 sex-workers, 5000 injecting drug users, 13,000 men having sex with men and 2500 people living with HIV (from 1988 to December 31, 2011, 1136 cases of HIV infection were recorded among citizens of RA, of which 165 were during the last 11 months. An assessment of the reality of HIV/AIDS in Armenia shows that the estimated number of those living with HIV is actually about 2500 people).  In nearly every aspect of their lives, these people encounter discrimination and undignified treatment. What's more, the violations of their rights, which define their lives in every sphere, remain unresolved without specialist intervention. On one hand there is inaccessibility to and lack of organizations which work on the protection of the rights of these marginalized groups, and on the other, there is a lack of information given to them regarding how it is possible to resolve these issues – where to apply to receive necessary and quality services.
Concerned with these issues and also with in the protection of human rights and the accessibility of provision of addressed services, "Real World, Real People" and "Public Information and Need of Knowledge" (PINK Armenia) NGOs, since July of 2011, have cooperatively started to implement "Legal Clinic for Most at Risk Population" program.
Through the implemention of the project the organizations aim to increase the involvement of most at risk polulation in HIV prevention programs via provision of coordinated and competent legal services. The organizations also pursue the goal to create a basis for change of policies, laws and practices through fair, public and strategic litigation.
The protection of human rights is important in every domain of life, including the area of healthcare. The protection of the rights of people at high risk of HIV infection and people living with HIV has unique meaning and importance as in the atmosphere of respect towards human rights, the risk of being infected with HIV is decreased, dignified life of PLHIV without discrimination is insured, the negative effect of emidemic on the individual and society is reduced. Protecting human rights has utmost importance for effective and legally justified responce to HIV. This assumes the safekeeping of all human rights and having all key freedoms fulfilled according to applicable international norms.
The organizations involved in the implementation of "Legal Clinic for Most at Risk Population" project provide the following services to the beneficiaries, people living with HIV, injecting drug users, sex workers and men having sex with men, in a timely and geographical manner:
legal counseling,
applications, claims and other necessary documents,
visits to the police station if the beneficiary has been illegally arrested or brought to police station,
advocacy in governmental and non-governmental bodies,
representation in courts for civic and criminal proceedings (in certain cases),
informing them on issues of human rights.
In the bounds of the program and for the four main target groups of the program there are free, 24-hour telephone hotlines available at 099-522533 and 077-522533.
The program is currently in its pilot phase; if it shows itself to be successful in providing its services, it will be extended and made permanent.
The program is financed by "Open Society Foundations-Armenia".
Nvard Margaryan