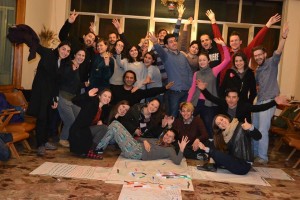 I was at home taking a nap when I received a call from PINK, it was Kolya. He told me: "I can now officially tell you to pack your suitcase or suitcases if you know what I mean! You are going to Italy to take part in Seminar!" My reaction to that news can be considered odd as I jumped for 5 hours constantly, without taking a break. Within a month, I was lucky enough to get a Schengen visa on my Iranian passport and I also met my beautiful, interesting and very cool fellow traveler Gayaneh.
It was a cold day at Yerevan. 22nd of February, I picked up Gayaneh and we headed towards the Airport. Our path was not as straight forward as you might think. From Yerevan to Kiev International Airport with 2-3 hours of stop and then Kiev to Rome. But the capital of Italy was not our final destination, nevertheless within 4 hours, we took our chance to benefit from the beauties of Rome.
Gayaneh and I prepared a to-do list which seemed like this as far as I remember:
eat Italian Pizza,
eat Italian Pasta,
eat Italian Gelato,
drink Italian Cappuccino,
get to the Lecce train!
Your guess is right! After Rome we had to catch our train to a little town  in the southern part of Italy called Lecce. It had some great ancient architecture and a seaside. It was almost 12 A.M. when we arrived at Lecce. Thanks God,  Salvi (our head-organizer) was there to pick us up. I was thinking we would go to a Motel or something, but surprise, surprise! It was a nun's convent! First thought pumping in my head was a big cross and nuns forcing us to pray on each meal, shushing us for making too much noise, starving us to death because obviously eating too much was not considered Godly. But later on, I was proven wrong, the nuns were the most caring and gracious people I've ever seen. They had this genuine respect and kindness towards you. To be very honest, we were horrible guests, we always came late at night, we wiped out the table full of food and we had an endless demand for more hot water to take shower and not once I heard them complain. They were absolutely amazing and I think it was for the best to be in such ambiance. The only inconvenience was when you were trying to change your clothes, there was Jesus, Marry and all the last Popes staring at you from the wall!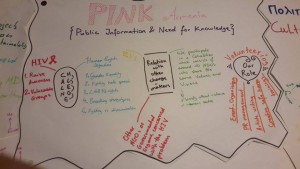 The next morning was our first actual gathering  in the frames of Youth in Action project titled "CHAlleNGE-what does it take". The first session was called  "Buongiorno" (I always thought that in Italian it means "hello" or "hi", but it actually means "good-morning"). It was truly an international event: Armenia, Georgia, Azerbaijan, UK, Belarus, Croatia, Greece, Cyprus, Romania, Italy and Moldova. All I can say now is that I am not disappointed at all.
Within the next 4 days we carried out series of interesting discussions and activities like meditation and free writing. But our principle issue was: How to fulfill the needs of a change-maker.   We would share our knowledge about what is change, what is a support-system, what is infrastructure and sustainable development.
Our group decided to organise an event in Greece, where consumers will bye products directly from farmers, so the whole money would stay with farmers, as a result of which the local buisness will develop especially that farmers can sell their products with better conditions.
Each day we were given free time to scout around and discover the wonders of the city or to rest a little. At nights, it was party time! We would head out with the whole group, hunting down the good restaurants and pubs in the town center.
I've learned a lot, it was like I switched to my creative mode. When we were leaving, I was not feeling bad but rather I felt changed in my heart. I felt I was wiser, more mature and more knowledgeable. But most importantly I knew that I would see these wonderful people once again in my life, not only because we managed to write down a project  aiming to change something for good (which is the goal of the contact-making seminar) but because I knew I felt good, empowered and supported whenever I was surrounded with my new friends.
Ejmin Shahbazian