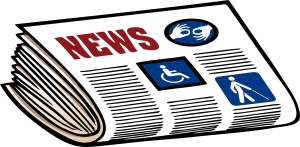 The coverage of the story*[1] about the child who was born with Down syndrome in New Zealander father's and Armenian mother's family has changed the public opinion. Firstly, because people learn what Down syndrome is, secondly, that parents who have such children understood that society accepts them, says Zara Batoyan, advocate for the rights of people with disabilities at Bridge of Hope NGO.
"Opinions were expressed, that father harms the reputation of Armenia, because it was mentioned, that Armenian [mother] refused the child and that in Armenia the 80-90% of parents, who have children with Down syndrome, refuse them. They remained silent when I was asking to them: isn't it like that?," – says Batoyan, noting that we would see those children at least in schools, if they won't be refused.
The most themes which are covered by media, as Batoyan mentions, are about people with disabilities. The coverage of that topic increased in last years due to NGO's activities.
"There are themes that journalists are not fully aware of. For example, when we talk about children with disabilities, who are refused by their families, mostly they cover it emotionally, instead of speaking about rights, services, State's responsibilities".
She adds that it would be better to discuss questions like this: do people with disabilities have the right to adopt children? Are the rights of people with mental disabilities taken into consideration, when we are coming across the rights of living in the family, or simply deciding the place of residence?
"For the last two years you can find Davit painting garages, walls in Yerevan's yards. During two years he has painted 24 areas," – "Hetq" newspaper's story[2] about Davit Gabrielyan, who has hard of hearing, is about one of those people, who have disability, but prove that they are also full members of society.
If we look through Armenian media we can notice that these kinds of stories are being covered at lower extent comparing other disability-related publications.
By bringing an example of British Daily Mail newspaper, which every week publishes at least one story about persons with disabilities, Batoyan remarks, that the best way to introduce the problem is to find these types of heroes and tell their stories.
"For us it is easy: there is an event, let's go and cover it, but what is the purpose behind that event, very few reports." Nevertheless, she stresses that media managed to break some sorts of stereotypes about people with disabilities, but when it comes to prove people's attitude through their actions, there is a gap still.
People say: "yes, it is very good, if child with disability will study at school, but I don't want them to be in the same class with my kid. Or: it is right that persons with disabilities have the right to work, but I won't employ them."
You can witness changes in the work style of State institutions. If persons with disabilities previously were not involved in discussions of the issues concerning them, now, Batoyan notes, that their opinion is being taken into consideration.
"Another question is how much progress is being recorded as a result of those discussions, but, in fact, they have started theoretically ask for an opinion. It's a big change."
According to her, there is only one unit to assess the problems of people with disabilities, which is how many such people we meet in public places. If we meet them, it means that there is a change, if we don't, it doesn't mean they do not exist.
Hovhannes Ishkhanyan
[1] New Zealander insists, that learning that the child has Down syndrome his wife refused to grow him, whereas wife says that she just wanted the child to grow in New Zealand as in Armenia there are not enough conditions for him.
[2] "A person, who illustrates Yeravan", 26.05.2014 hetq.am