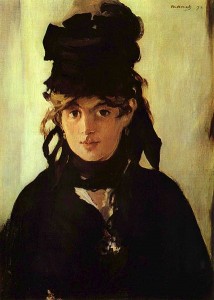 Berthe Morisot was able to do something that almost seemed impossible for her time: with remaining faithful to her ideals, becoming one of the most important characters in the history of Impressionism.
She was one of those brave and talented artists who challenged and rejected the traditional academic style and in 1874 presented her works at the art exhibition of Parisian painter Nadar.
Criticism / innovation
The exhibition was a really big event in the cultural life of Paris. Thirty young artists were presented with over 165 works, which were quite different from the works existing previously, winning them a fresh wind. Immediately they started to talk and spar about this new movement which was called Impressionism. These artists became the target of journalists and the public. The journalists mentioned Berthe Morisot among the brave ones as well, of course by criticizing her choice. They immediately mentioned about her grandfather, a famous French painter Jean Honore Fragonard, who, according to journalists, must have turned in his grave after his granddaughter's extravagant step.
Even the people that knew Berthe well were unable to appreciate/accept the art in the innovative way. Joseph Guichard, who taught Berthe the basics of art, wrote to Berthe's mother about his impressions of the exhibition: "Dear Mrs. Morisot, when I entered there and saw your daughter's works in that sick environment, the feeling of despondency came over me… If we look at it conscientiously, then somewhere we can find wonderful works, but one way or another, all of them are abnormal. Ms. Berthe has also become the victim of this mental disorder, her brain is a little bit exhaled".
Despite the fact that her art was not accepted, Berthe Morisot did not stray from her chosen path, and time put everything in its place and today her name has its unique spot in the history of Impressionism.
Berthe was born in 1841 in Bourge, Cher, France, where her father was quite an important figure. For her time period, she received an amazing education. Berthe was interested in art since her childhood and standard art classes did not suffice her. Even her teacher, noticing her and her sister's talent, said that they could be great artists but she would be a revolutionary in that field.
For Berthe, meeting the French artist Camille Corot was a meaningful event. The artist began not only giving Morisot advice regarding her art but also was carefully following Berthe's progress and became a close friend of the family; Corot was famous for her self-restraint. Berthe gained great knowledge and new skills from Corot. Already at twenty-three years old, she exhibited her work at The Hall, where the qualifications for choosing art to display were quite strict, but Berthe's work was displayed there for several years.
Edouard Manet as Part of Berthe Morisot's Life
In 1868, Berthe met Edouard Manet at the Louvre. Manet was impressed by Berthe's talent and her unique beauty – he made more than 10 portraits of her. However, regardless of attraction, nothing but friendship was possible between the two, because Manet was married. Manet had a great influence on Berthe's work, therefore Berthe was quite independent and understood the importance of personal style. Sometimes even after taking direction from Manet, Berthe would become upset, feeling that in the pursuit of the ideal image, the art lost its personality and ceased to be her creation.
Manet introduced Berthe to such Impressionists as Monet, Renoir, Sisley, Degas, Pissarro and Cézanne. Amazingly, Berthe was accepted into their group, they respected her, and even the oft-sarcastic Degas spoke of Berthe with respect.
Berthe's Artistic Style
In the 1874 exhibition, Berthe exhibited 9 pieces, of which one was the piece "The Cradle". As a change to the traditional depiction of Madonna and child, in Berthe's painting a modern woman is portrayed protecting her child's sleep. Berthe never portrayed nudes in her art; for her, the night clubs, theaters and the crazy and lawless Parisian world were foreign. The content of her work was bounded by the interests of the women of bourgeoisie families – motherhood, family life, gardens and outings in nature… However, at the same time, she quite delicately includes the emotions and daily life of women, depicting them worried and busy. Some critics are shocked at her perception of such women a vast number of her paintings reflect the virtuous, well-bred woman while at the same time showing some internal fire and charm which is seemingly hidden from the rest of the world. She, with her moderate stance, yet seems to remind the male sex of woman's unattainability and delicacy.
Berthe's Family Life
Morisot's family was very tight-knit, Berthe had an especially close relationship since childhood with her sister, who after marriage was forced to let go of her artistic dreams, and so supported Berthe in her artistic life and often served as Berthe's model. Her sister's marriage, a happy affair in general, nevertheless did not interest Berthe. She could not picture her life without art, and at that time it was seen as impossible for a woman to compromise career and family. Berthe's mother would even get upset. Berthe turned thirty, but she was not yet planning any marriage, despite the fact that there was no shortage of suitors. Poet Stephane Mallarme said "She seems unboundedly proud and standoffish, but her coldness itself is charming making it impossible to remain indifferent."
Surprisingly, Berthe ended up marrying Edouard Manet's younger brother, Eugene Manet to whom it seemed he could change Berthe's skeptical outlook on marriage. More than one year later, Berthe writes "I am married to an amazing, kind young man. I think he truly loves me. For a long time, I was taken by fantasies, which did not make me happy, but now I am starting real life." Eugene truly cared for his wife and supported her in her artistic career. Their only child, a daughter, Julie, was born four years after they married, when Berthe was already 37 years old. Her favorite artistic subject was the reality of family life – she painted her sister, husband and daughter. Her beloved work helped sustain her after the death of her husband, three years after which Berthe Morisot herself died of pneumonia. She was only 54 years old.
Her daughter Julie continued her work. She also truly became a talented painter, and her style was similar to that of her mother.
A unique character, an independent woman, who was an innovator for her time and was seen as audacious: with fortunate beginnings and until the end of her life remaining true to her chosen path and style. Berthe Morisot's life was full of unexpected and odd events, and she herself was considered a bit strange. Even now, many are amazed at how she was able to have such success and maintain such a rating for so long. She is worthy only of respect and nothing else.
Lilit Melkonyan